Like many open-source projects, we get a lot of traffic and interest from a few open-source network websites, such as Freshmeat, ohloh, and SourceForge.

If you want to help support our project (or any open-source project for that matter), please drop by and vote, rate, rank, and/or add comments for OpenShot to the following websites. The higher our scores / ratings, the more interest we will gain.

Remember, in the open-source world:
Interest = Life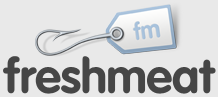 On FreshMeat, we only have a score of 2, which isn't very good. Please click on this image to jump to FreshMeat and vote for OpenShot:


On ohloh, we only have 1 rating. To rate OpenShot on ohloh, please click on this image to jump to ohloh and rate us (or review us).








Thanks for your support, and hopefully this will help raise the visibility of OpenShot, and generate more interest around the project. If we get enough interest, we will surely attract some good contributions, and thus... have a better product!