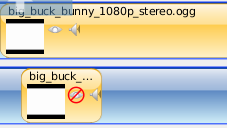 Have you ever wanted to separate the audio from a video clip, chop it up, move it around the timeline as just an audio clip?
I know what you are thinking. I can only set a single key-frame (i.e. volume)!?! What if I need to have the volume go up and down... and then back up.. and then back down, etc... This is easily accomplished by using the
razor tool
. It cuts a clip at a point in time, thus creating two clips. Each of these clips can have separate volume and fade in / out settings. You can make as many cuts as needed... which gives you much more control over the audio settings. Before you email me, I also plan to add a more traditional, graphical way to key-frame audio volume over a clip. But you will have to be patient for that one.